Need Help with your Broken Gate? CALL US TODAY!
Slide Gate Repair
Your slide gate is not working as it should? Call Advanced Gate Repair and we will dispatch one of our techs to come out and diagnose what's wrong with your slide gate.
We provide expert gate repair services for your metal slide gate. For homes and businesses in Houston, Advanced Gate Repair is the go-to residential and commercial sliding gate contractor.
Our team of experts has years of experience with slide gate maintenance.
We specialize in sliding gates and all different services for your slide gate.
As the premier Houston gate repair company, we are your best choice to get your gate serviced, repaired and in proper working order.
We are the trusted gate repair company for countless residential and business clients knowing they can count on our techs to respond fast but also fix any problems with their sliding gate to perfection.
Maintenance is very important when it comes to being able to rely on your slide gate to function as you expect.
Calling our team out on a regular basis to take care of your slide gate maintenance is the best choice.
When it's time to have the sliding driveway gate replaced, our team can help you with the right affordable solution.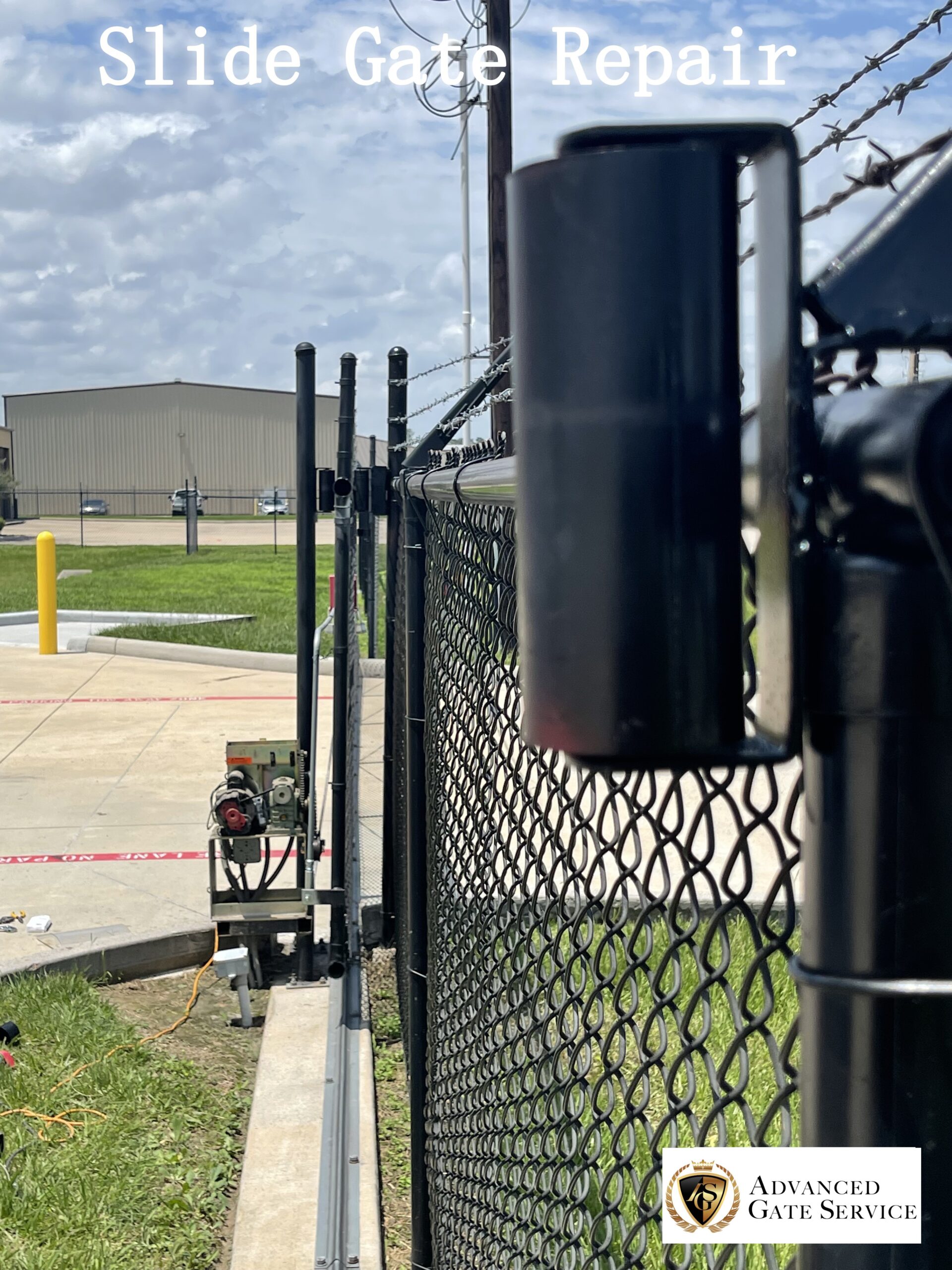 Broken V Track:

One of the common problems for metal slide gates is a broken v track. Our team can repair or replace your v track so the slide gate will work as intended. Traffic crossing the track causes wear and tear. Sometimes it is as simple as securing the v track to the road surface again and other times the v track itself will get compromised and need replacement. Our expert team performs this repair commonly on slide gates.
Broken Welds:

Broken welds are common in metal slide gates for various reasons such as metal fatigue, aging and being struck by a vehicle accidentally. This is a problem that is very important to be addressed as soon as possible. Gates should always be repaired and serviced by a professional gate repair company. We offer full welding services for your metal slide gate allowing it to operate and function as it should. We can repair your slide gate and make it work like new once again.
Gate Stuck Open or Closed:

Metal Slide Gates can get stuck without warning. Is your gate stuck open or closed for no logical or obvious reason? Obstructions can be caused by mechanical, electrical or obstruction preventing the metal slide gate from operating as you expect. We can troubleshoot the problems with your slide gate and offer the right solution.
Broken or Bent Pickets:

Broken and Bent Picket replacement is an easy fix for the team at Advanced Gate Repair. We can replace the broken or bent pickets and expertly weld new ones in their place. Bent pickets can be repaired if the damage is not too bad. We will prime and paint once the pickets have been removed with new ones welded into place to complete the repair.
Broken Gate Openers: Do you need your gate operator replaced or repaired? Give our team a call and our well-trained techs can diagnose the problem for you and make the correct gate operator repair or suggest the correct gate opener that will work best with your slide gate.
Needing a Professional Gate repair company In the Houston area?
Call Advanced Gate Repair today (346) 224-7720
Need Help with your Broken Gate? CALL US TODAY!