Need Help with your Broken Gate? CALL US TODAY!
Slide Gate Operators
Advanced Gate Repair offers a wide range of high-quality commercial and residential sliding gate operators. When it comes to sliding gate openers, you can rely on us to deliver only the best. We install top brands known for their top-quality gate openers. We can help you whether you need a sliding gate operator for a residential driveway gate or a heavy-duty slide gate system for a large industrial property. If you want to learn more about any of our sliding gate operators, give us a call to discuss the best solution for your home or business.
Regardless of the kind of sliding gate opener Advanced Gate repair installs for your property, you can expect competitive prices, rapid install, and exceptional customer service throughout the whole process.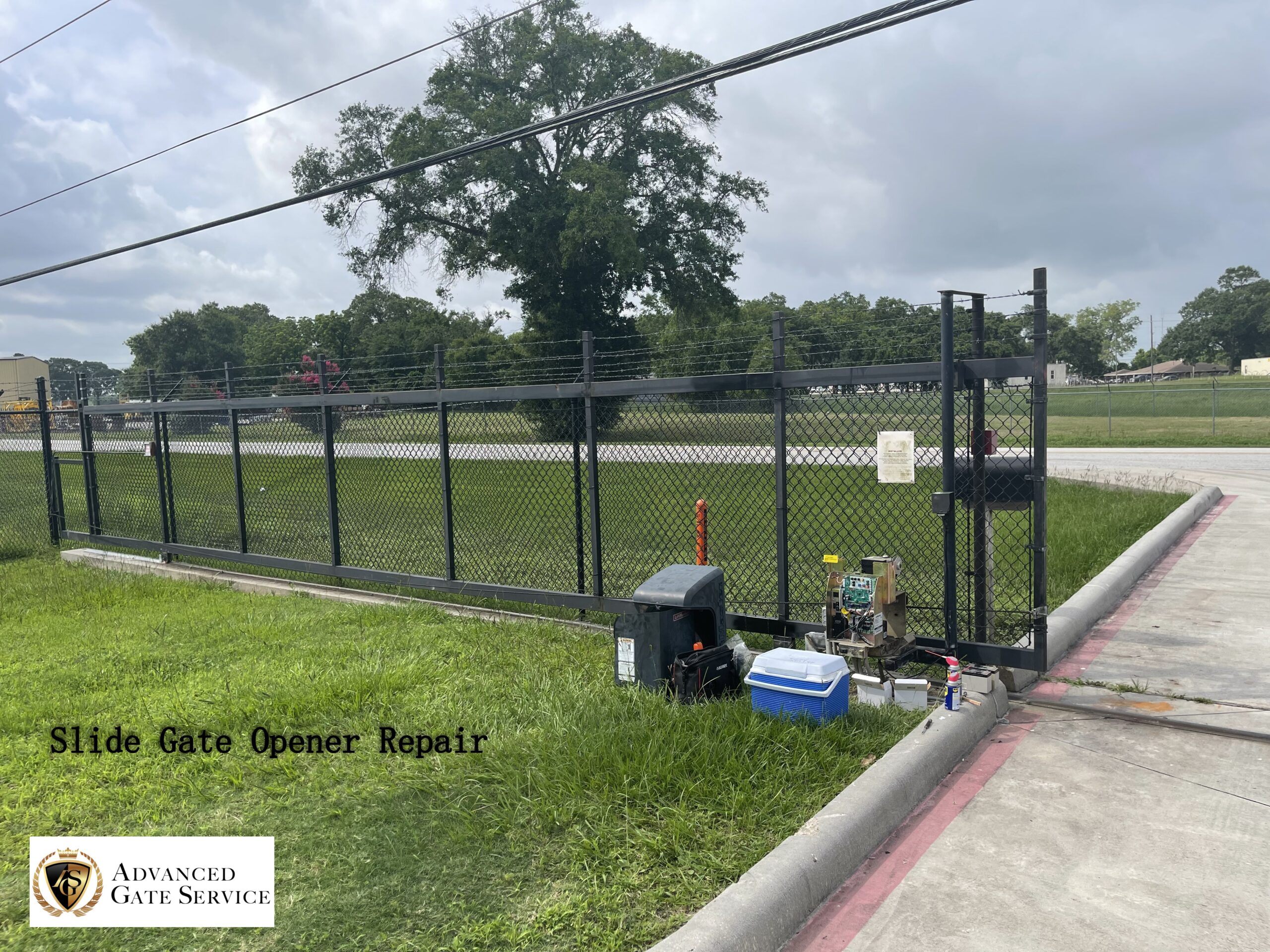 SLIDING GATE AUTOMATION
A sliding gate is frequently restricted to a single gate for an entrance. This single slide gate is wider than your driveway and travels on a track to one side of the driveway entryway.
A single gate motor is mounted on one side of the driveway entry. The motor can be positioned in such a way that the toothed racking attached to the whole length of the gate meshes with the motor's gear, resulting in a rack and pinion drive system. More popular is for the motor to pull and push the driveway gate with a chain that is mounted to the front and back of the gate passing through the gears of the motor. As a result, as the motor spins, the gate opens or closes with it.
A sliding gate opens along a straight gate track that spans more than twice as wide as the driveway. Tracks are usually fastened to the ground. This begins from the latch post on one side of the entry and continues across the drive, beyond the guide posts situated near the motor. The track is long enough for the gate to move along, clearing the driveway entry entirely.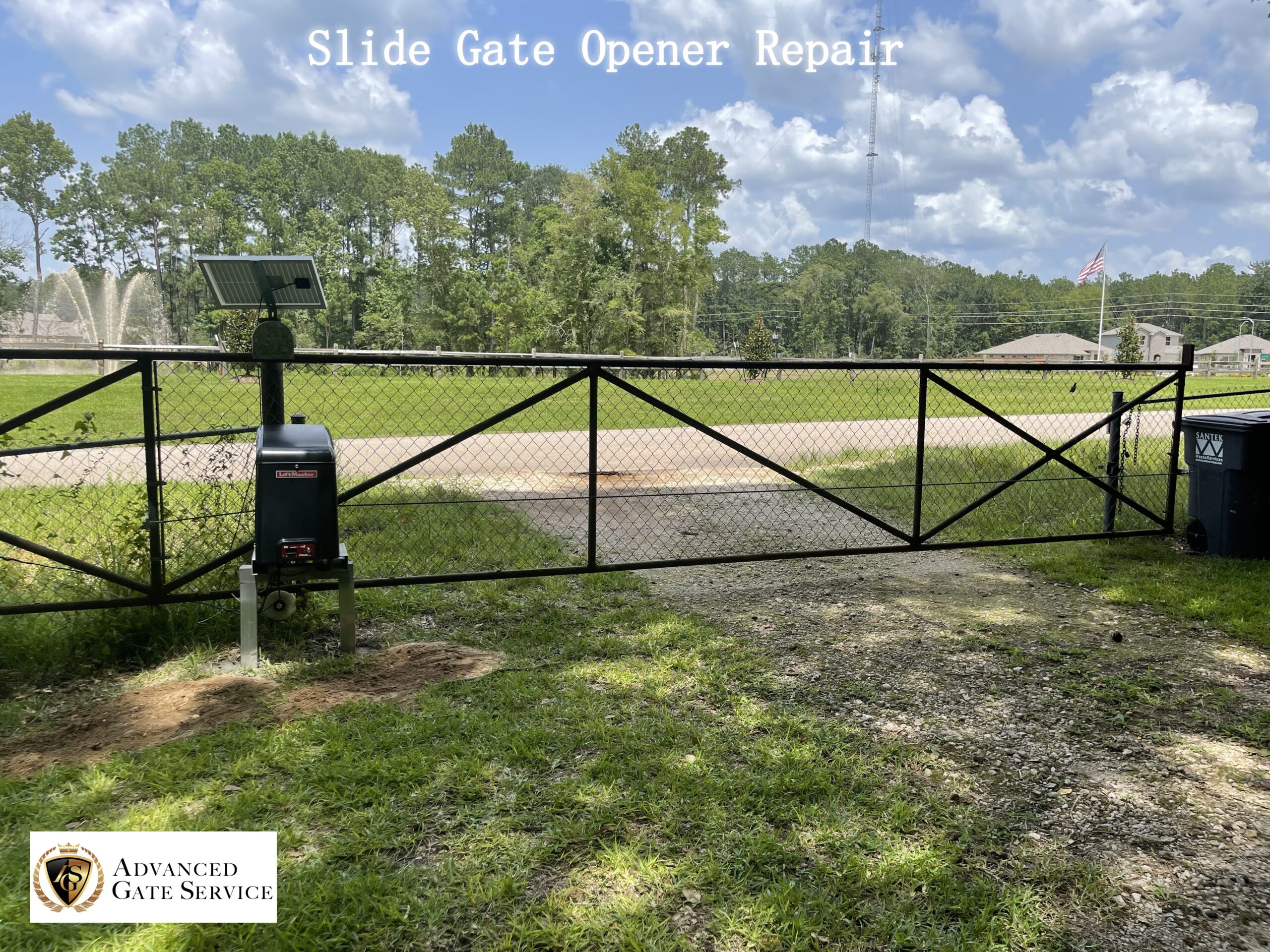 Benefits of Sliding Gates
When space is limited, this product is ideal. It is highly secure and useful as an intruder deterrent.
When compared to cantilever gates, they are more cost-effective.

Motors with self-locking clutches 

Sliding Gates for the Driveway
The size of your driveway entry will also require that same measurement for the gate to slide back of your driveway.
For example, a 12' driveway entrance will require at least another 24' of room for your gate to slide open plus additional space for the tail piece that is needed for slide gates.
Due to the pitch of the land, a lack of space, or garden beds/other obstacles, this might be difficult at times.
Residential Gate Repair
Gate Ground Work Sliding Gates
The following steps are required when installing a driveway gate and operator system:
Latch Post: A post must be installed where the gate will close to allow for a secure closing. 
GuidePosts: Usually 2 posts must be installed opposite of the latch post on the driveway. The guideposts will keep the gate tracking in a straight manner for a secure closing.
V Track: A V track is installed and usually bolted to the concrete driveway surface. If the V Track crosses a grassy terrain then it is best to set piers for the track to be secured in this area.
Level: It is important to take care when designing a slide gate considering the slope of the land. If the slope is too great, then the driveway gate and moter will struggle to work properly. Your gate installer such as Advanced Gate Repair will make sure to install your slide gate properly.
Operator Stand: It is critical to design a quality pad site for the motor or build a anchored stand for the operator system to be attached to. This will allow for smooth operation of your driveway gate.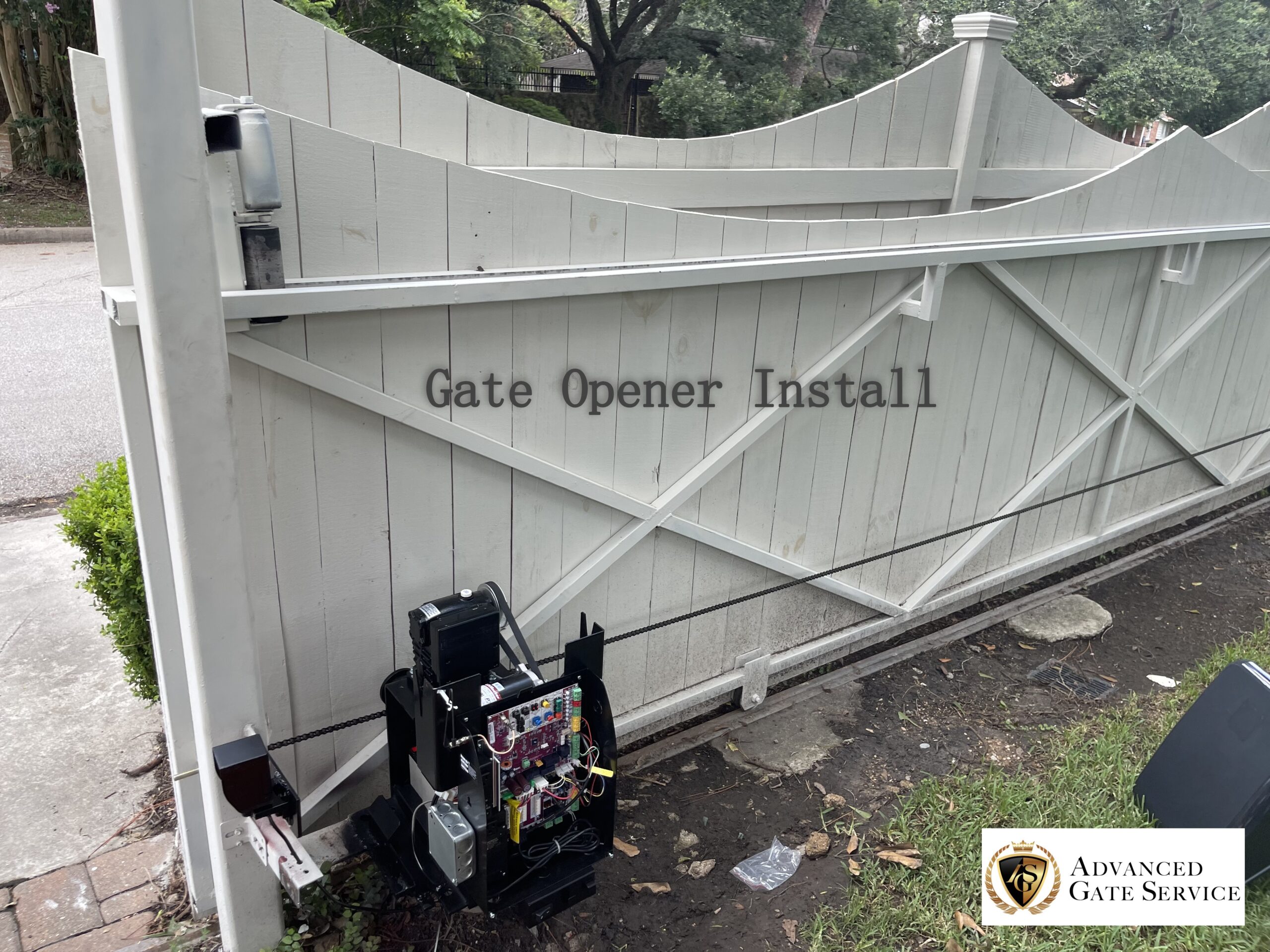 Needing a Professional Gate repair company In the Houston area?
Call Advanced Gate Repair today (346) 224-7720
Need Help with your Broken Gate? CALL US TODAY!