Need Help with your Broken Gate? CALL US TODAY!
Commercial Gate Repair
Commercial gates are a common sight these days providing security for your business. When a commercial gate and its components are maintained properly, it will function well for many years. Advanced Gate Repair performs many different service calls for various issues that may arise for commercial businesses with driveway gates. If someone runs into your gate, it might result in physical harm. In these cases, Advanced Gate Repair will dispatch a qualified technician to your commercial site to assess the damage. We will next devise a strategy to repair it as fast and efficiently as possible. With our mobile welding services, we can typically remedy the problem on-site. Our portable welding rig is by far the most convenient approach to make a repair since we restore the broken portion without removing it from your property and without causing any service disruption. However, in some cases, the gate must be dismantled and transported to our facility for off-site repair. When we discover severe damage or wear and tear to the gate, we typically need to remove it, making the restoration process more difficult.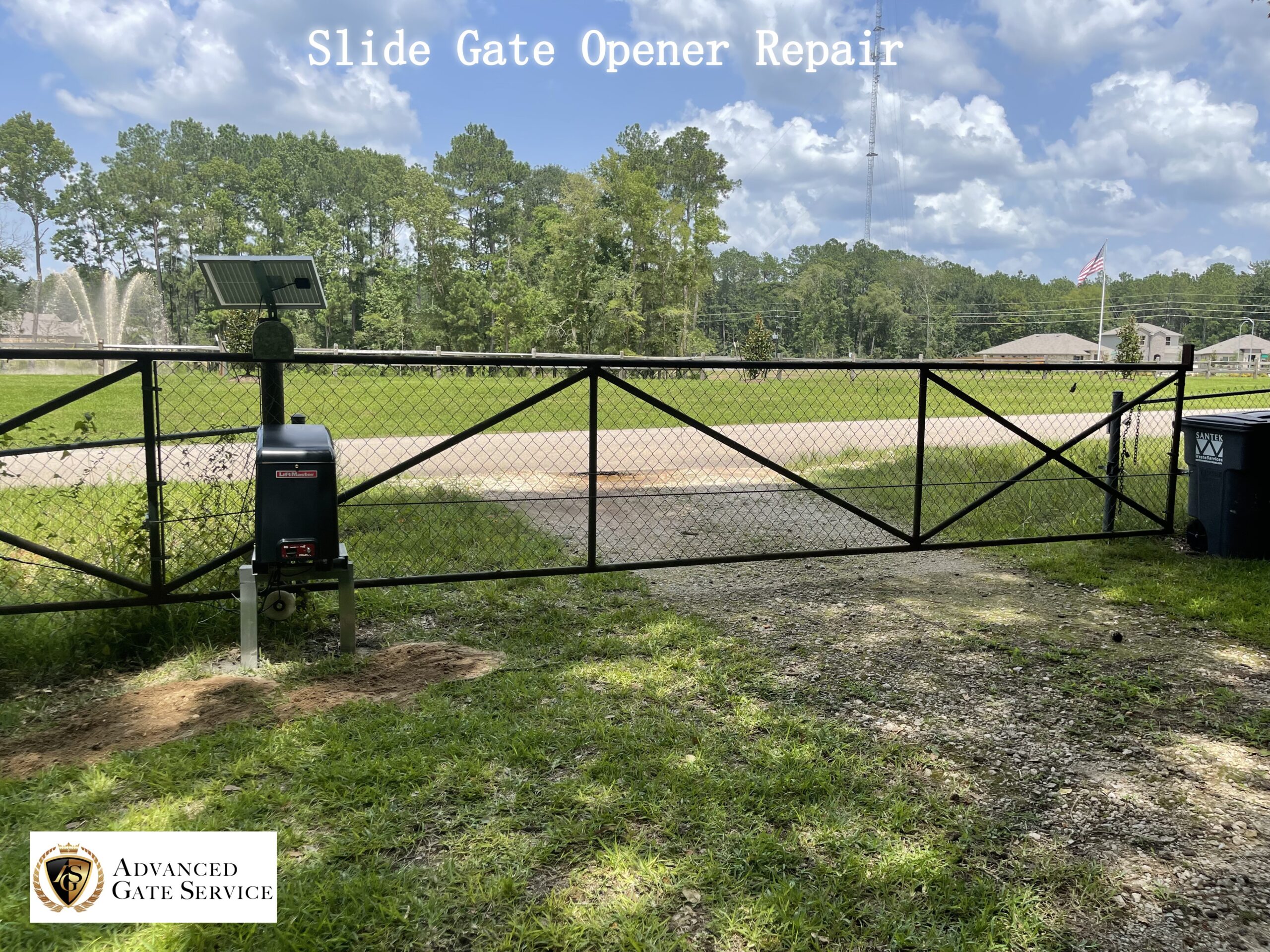 Mechanical Issues
Sometimes the issue with your gate isn't physical, but rather something has gone wrong with one of the components that run it. Our highly educated professional team understands how to handle gate difficulties quickly, so you can expect a quick resolution. We'll examine the sensors, because a dirty or damaged sensor might prohibit your gate from opening. We will also inspect your gate's batteries, hinges, chains, tracks, and arms. We'll check the electrical components and come up with a remedy if they're the source of the problem. 
Broken V Track:

One common problem for commercial slide gates is a broken v track. The Advanced Gate Repair team can repair or replace your v track so your slide gate will work as it is should. Wear and Tear can be caused by continuous traffic. Securing the V Track to the roadway surface is one solution and sometimes the track is compromised in such a way that replacement is the best option. Our expert repair team can perform this type of repair with confidence for our clients.
Broken Welds:

It is always best to address broken welds as quickly as possible.

Broken welds are a common occurrence in commercial swing and slide gates for various reasons such as struck by a vehicle accidentally, aging and metal fatigue from improper design. Commercial gates should always be serviced and repaired by a professional gate repair company such as Advanced Gate Repair. We offer full welding services for your commercial swing and slide gates allowing for them to operate and function as they should. We can repair your commercial gates and make them work like new once again.
Gate Stuck Open or Closed:

Is your gate stuck closed or open for no logical or obvious reason? Commercial Slide Gates can get stuck without warning which can be caused by mechanical, electrical or obstruction preventing the gate from operating as you expect it to. We troubleshoot the problems with your gates and offer the right solution.
Broken Gate Openers: Does your gate operator need to be replaced or repaired? Give our expert team a call and our techs can diagnose the problem for you and suggest the correct gate opener that will work properly with your slide gate or make the correct gate operator repair if that's the solution that works best for our clients.
Needing a Professional Gate repair company In the Houston area?
Call Advanced Gate Repair today (346) 224-7720
Need Help with your Broken Gate? CALL US TODAY!